Active Citizen Social Enterprise (ACSE) is piloted by the British Council in partnership with the civil society organizations around the world with the aim of developing social leadership skills, promoting cross-cultural communication and taking responsibility for their society that is considered the key skills of young leaders in the 21st century.
On September 21-23, 2019, Lac Hong University in collaboration with the British Council and MOET held a workshop on Active Citizen Social Enterprise for LHU students.
The course is trained by 5 lecturers including 2 lecturers of British Council and 3 lecturers of LHU, along with 28 students who are all excellent at entrepreneurial ideas and building a foundation sustainable enterprise.
LHU lecturers and students taking part in Active Citizenship workshop
The Learning Journey of an Active Citizen
Character and Culture
Culture is shaped by a kind of community contract. This helps people understand, communicate each other and create a feeling of embrace, expectation, belonging, pride, and character. Culture can also create notions of behavior for community cohesion and culture can be used to understand or explain different cultures. Culture is character, it not only stands, but also it develops and changes over time.
Intercultural dialogue
An active citizen is about bringing dialogue into their life, not just at work, including:
+ Improve their knowledge of the local situation.
+ Improve quality when making decisions.
+ Increase cooperation.
+ Increase pride in the character of where you belong
+ Increase sympathy, tolerance for others, trusting and understanding each other.
+ Create innovations.
+ Increase inclusiveness and equality.
Local and global communities' connection.
The ACSE towards citizens who are more actively agreeing with global problems via both training courses and intercultural dialogue, but in its first period, the program focused on inviting participants to practice their perspectives within the local community.
Plan-making for community projects.
Some key points for students when plan-making for community projects:
+ Practice the skills and knowledge learned in all 4 learning journeys.
+ Identify the personality in which you can contribute (small actions).
+ Identify strategic opportunities for your plan-making for community projects.
+ Effectively use the skills and interests of team members to build a team that shares a common and supportive principle.
+Use appropriate approaches to build success.
+Consider working principles.
+Build a group of like-minded people.
+Invite people in the community joining in the decision-making process and project implementation.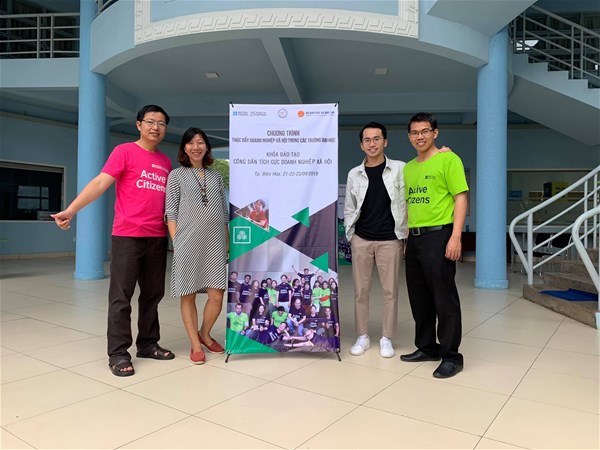 With a youthful enthusiasm, passion for exploration and a desire to succeed, lecturers and students of AIE had a high value training course, all students participating in the workshop will receive the British Council's facilitator certificate. We hope that the British Council in collaboration with the LHU will organize more such course for students.