Towards designing a learning environment and exchanging practices with leading businesses, on the afternoon of May 4, 2021, the Faculty of Administration - International Economics (AIE), Lac Hong University (LHU) held a workshop. "MARKET RESEARCH AND IMPLEMENTATION OF EXPORT ORDER". Attending the seminar include:
Representative: EsQuel. Company
1. Import-Export Director: Mr. Nguyen Hung Vy
2. Brand Development Manager: Nguyen Thi Ninh Giang
3. Deputy Director of Human Resources: Dinh Xuan Nam
4. Human Resource Manager: Vuong Gia Han
5. Deputy Director of Quality Management: Charis Nguyen
6. Import-Export Specialist: Le Thi Hue
7. Facilitator (intern at Lac Hong University): Nguyen Hoai Nghia
Representative of the Lac Hong University is Rector: Mr. Lam Thanh Hien, and lecturers of Foreign Trade Economics major of AIE.
More than 130 students majoring in Foreign Trade Economics and students of courses with interest in the topic are studying at the AIE.
Opening the conference, the lecturer is Nguyen Thanh Hoa Binh - AIE was pleased to welcome the delegates who came to the workshop to learn a practical case about multinational companies operating Active in Vietnam's essential export product. The garment industry - shared by the representative of EsQuel Company.
Next, Mr. Lam Thanh Hien sent his thanks to the business representatives who have accompanied the Faculty and the school in renovating teaching activities to bring practical benefits to students.
In the main program, the Import-Export Director of EsQuel Company, Mr. Nguyen Hung Vy gave detailed instructions on making export orders, specific documents and enthusiastically answered each question of the students.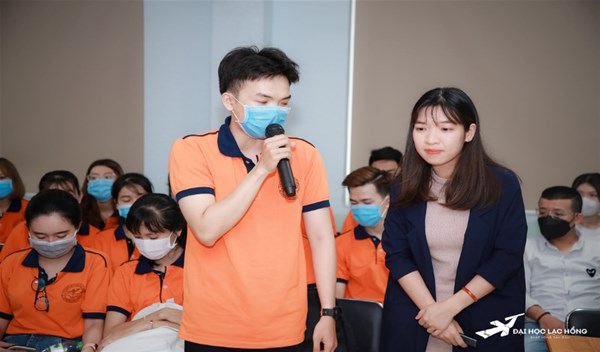 The following content is related to the market research story, customized products according to the local market. Product-specific is the brand Determinant of how it was introduced into Vietnam. The students were acquainted with how to design questions and process survey results.
Each presentation ends with an exciting gameshow, helping students to review knowledge and receive many exciting gifts.
Finally, there is an Introduction to the Esquel Management Trainee Administrator's Trainee Program and application requirements (Link to apply: https://bit.ly/EsquelMT2021). Not too hard (except for Fluency in English), but the payoffs to the next round are well-deserved, especially for those who have the ambition to become Esquel's future leaders. The program still accepts students' applications.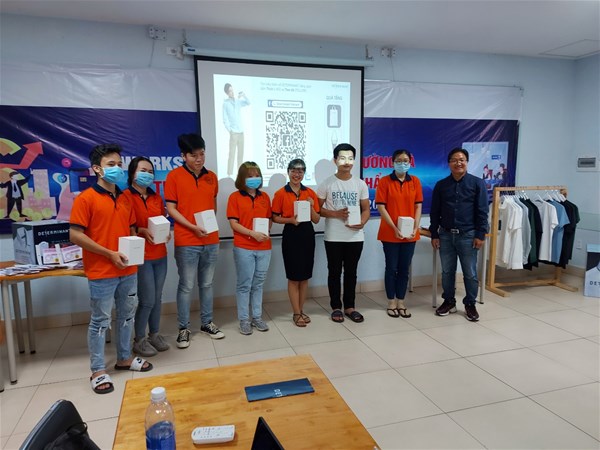 With 4 hours, the students have access to practical knowledge of market research, fulfill export orders at foreign enterprises, and at the same time improve their professional skills and bring into full play their creative thinking. Through this program, students will know how to approach and penetrate the market.
Thanks to the presence and enthusiasm of teachers, business experts, and students, the conference was successful.