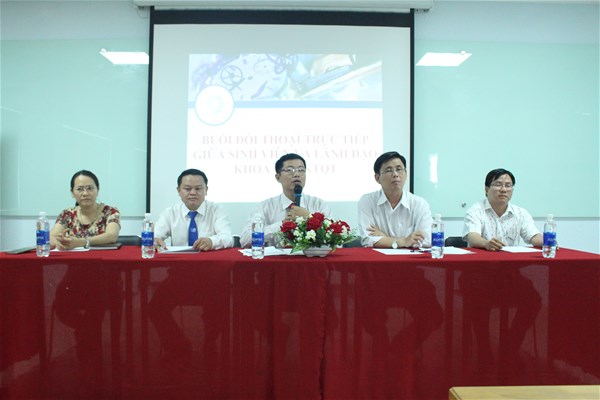 With the consent of the Rector Board, on the afternoon of December 7, 2019, the Faculty held a direct dialogue between students and Faculty Leaders. The dialogue session consisted of Dr. Lam Thanh Hien – Vice Rector, representative of the Rector Board; Dr. Nguyen Van Tan - Dean of the Faculty; Dr. Nguyen Van Dung - Head of Production and Quality Management, MA. Phan Van Hai - Head of Hospitality Department, Ph.D. Nguyen Thanh Hoa Binh - Head of International Business Department, MA. Vu Thi Thanh Huyen - representative of the Economic Law Department and all Academic and Support staff of the Faculty of Administration - International Economics.
To create a direct dialogue between the University's leaders and students in a democratic, public and responsible manner, helping the Faculty's leaders grasp students' aspirations and promptly resolve students' concerns during learning and training to ensure and improve the quality of comprehensive education.
At the beginning of the dialogue, Dr. Nguyen Van Tan - Dean of the Faculty, said that the reason for the conversation was so that students could exchange and comment on all aspects such as Training program, facilities, student services (student affairs, re-enrolment, grade correction, supportive policy...). To understand and offer the most effective solutions for the best performance in teaching and learning management of the Faculty.
The attending students listened to the university leaders and the Faculty answering questions from the classes sent in advance in writing. These questions were answered adequately, resolving raised problems. Many students' opinions were delivered during the dialogue involving mostly in facilities, extracurricular activities, soft skills training or meetings with experts for each major… Most of the questions were answered and directed to the remedies.
Dialogues will be the annual meetings to help Faculty and students understand each other, looking for a familiar voice. The Faculty and the University tend to improve the quality according to Southeast Asian standards in particular (AUN-QA) and step by step international standards (ABET)…